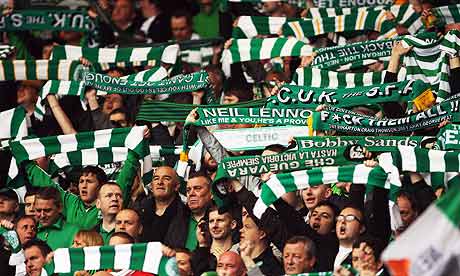 At The Diamond Studio we are so honoured to work so close with Scottish football and when we got the chance to create a line with Celtic we couldn't wait to getting sketching and so The Bhoys Collection was born. Our fabulous models Adam Mathews
and Jo Ledley have helped see that its popularity grows ! We can create bespoke pieces as well with loose emeralds waiting to be set in to something spectacular. So with tonight's game approaching we wish The Bhoys the best of luck and look back over some key moments in Europe.
1967 -
Celtic complete their most glorious season by winning every competition entered: Scottish League, Scottish Cup, League Cup, Glasgow Cup and the European Cup. The climax of the season is the 2-1 victory over Inter Milan in the European Cup final played at the Estadio Nacional in Lisbon on May 25, 1967. Celtic thus become the first British (and non-Latin) club to win Europe's most coveted trophy.
1970 -
Celtic reach the final of the European Cup again, but lose 2-1 to Feyenoord after extra time in Milan. In the semi-final Celtic defeated Leeds United in both legs. The second leg at Hampden Park was watched by 133,961, the largest crowd ever to watch a match in European club competition.
1974 -
Celtic win the league championship for the ninth season in a row - at the time, a joint world record for success in domestic titles. The team reaches the semi-final of the European Cup for the fourth time.
2003
-
Celtic reach the UEFA Cup final – their first European final in 33 years. Over 80,000 fans flock to Seville, but see the Hoops lose 3-2 in extra-time to FC Porto of Portugal.
2012 - Celtic beat out fierce competition and gave the fight of the season sealing impressive wins over the some of Europe's greatest the most memorable was the unforgettable win over Barcelona which showed the world what they are made of.
Today's Diamond of the Day is The Florentine Diamond.
The Florentine Diamond is a lost diamond of Indian origin. It is light yellow in colour with very slight green overtones. It is cut in the form of an irregular (although very intricate) nine-sided 126-facet double rose cut, with a weight of 137.27 carats (27.454 g).
In at number 42 in our celebrity engagement ring countdown is Olivia Wilde
After dating for more than a year, funnyman Jason Sudeikis has proposed to actress Olivia Wilde with a round brilliant diamond in a emerald halo setting on a delicate band the emeralds chosen to match her eyes (awww).